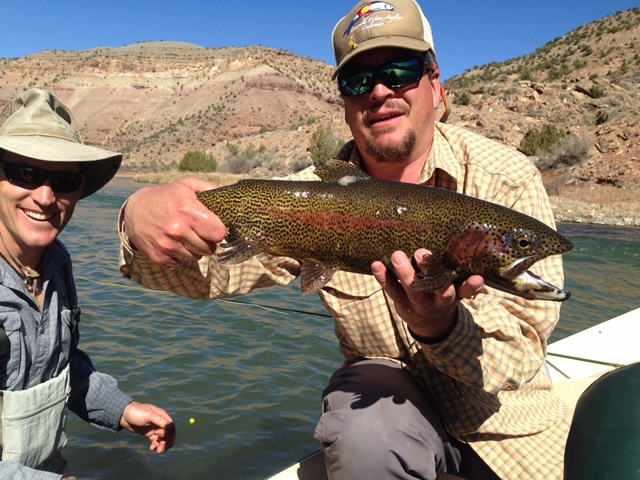 Greetings from the Gunnison Gorge where the river's big browns and rainbows are aggressively looking up and providing exciting July dry-fly angling. Top to bottom – from Chukar beach the Gunnison Forks and beyond – hungry browns and aggressive rainbows have been lurking from the shadows and grassy banks to smack big Chernobyl ant patterns and foam hoppers floating in their path. For anglers of all abilities, the top water action found in the Gunnison Gorge right now is a welcome turn of events following somewhat of an abnormal June stonefly hatch.
Early June conditions indicated this year's salmon fly/golden stone hatch would be remarkable. Swarms of stoneflies clung to the tall grasses, box elder trees and cliff walls. The browns were ready. The rainbows were ready. The anglers were ready. The federal agency in charge of river levels flowing from the three dams upstream, however, were not.
Seemingly turning a blind eye to the record breaking wet and cold month of May, the Bureau of Reclamation was forced to drastically raise river levels when June's higher temperatures caught them by surprise and reservoirs approached capacity. Smack dab in the middle of a fantastic hatch, river levels elevated from 400 cubic feet per second to over 7,000 cfs. With anything but constant river flows, nearly impossible drifts in high water and never ending debris in eddy lines, the fishing was, well, anything but consistent. Some days were absolutely fantastic with 23 inch rainbows keyed on large stonefly patterns. Other times, it wasn't so easy.
But let's not dwell on the past here.
River flows have regained some consistency at around 1,000 cfs and already it's plain to see that what occurred in June has set up for what appears to be a stellar July. In short, the fish are hungry and the grasshoppers swaying in the tall grasses on the banks are not only big but plentiful. (Seriously, the hoppers on the banks right now are crazy!) And at with recent river flows, there's plenty of current along the banks to slap a big foam bug for a great drift.
While the terrestrials seem to be all anyone can talk about right now, there's plenty of other bug life worth mentioning as well. Throughout the Gorge there's strong numbers of yellow Sallys. Below the Smith Fork on one cloudy afternoon, fish of all sizes were in the foam eddies slurping PMDs. If you are lucky to find yourself in Ute Park on an evening, your caddis-skating skills will be needed as they are hatching in strong numbers.
Right now, it's often pick your poison in the Gunnison Gorge. On a July 1 launch below the Smith Fork, one angler crushed them with a single chubby Chernobyl. His buddy, in the rear of the raft, crushed them with a streamer. Those who were throwing a dry dropper rig did well with both flies. The bite is on.
Whether it's a three-day fishing intensive excursion through the Gunnison Gorge, a full or half day float fish from Pleasure Park to Drysdale Flats or an exciting jetboat/float fish from the Smith Fork, there's plenty of water to wet your line. And, as always, Gunnison River Expeditions provide the most knowledgeable and experienced team of guides in the Gorge to make your adventure the trip of a lifetime.
Don't let July's Gunnison Gorge fishing pass you up. The fish are hungry. You should be too.
Call 970-872-3232 to set up your next expedition.