The North Rim Fishing and Hunting Lodge in Hotchkiss, Colorado can fully accommodate your stay before, during or after your Gunnison River fishing, hunting or rafting experience. The 3,000 sq ft. lodge offers six private bedrooms, four baths, a dining room and a living room. Fantastic views overlook the Smith Fork Canyon and the West Elk Mountains.
Rate
Lodging is reasonably priced at $100 per person per night. Breakfast is included at Pleasure Park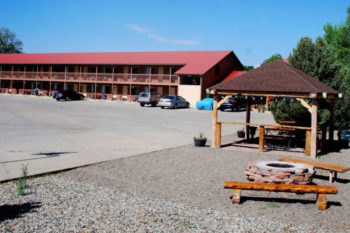 Alternate Lodging in Hotchkiss, CO
If you need to book lodging in Hotchkiss, we recommend the Hotchkiss Inn. Contact the inn at 1-800-817-1418 or 970-872-2200.